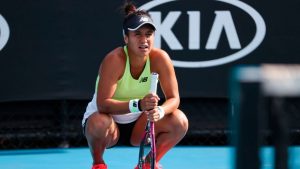 British tennis ace Heather Watson has been fined £1,900 for driving a car without insurance and speeding.
Ms Watson, 29, was behind the wheel of her boyfriend's E-class Mercedes when she was stopped for driving too fast in Roehampton, west London.
She was driving at 38 mph in a 20 mph zone.
When told she was also not insured Ms Watson said:
"I own a vehicle in Guernsey and that insurance policy allows me to drive my partner's vehicle here in the UK."
However, she later pleaded guilty by letter to driving without insurance and speeding.
Bromley Magistrates' Court fined her £1,900 – plus six points on her licence – and ordered her to pay £290 in court fees and costs.
Ms Watson, the British number two, has won nine tennis titles during her career.
She and her tennis partner Henri Kontinen won the Wimbledon mixed doubles in 2016.
Her boyfriend is Irish international footballer Courtney Duffus.