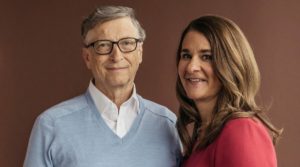 Bill and Melinda Gates
Bill Gates has strongly denied he discussed his marriage with convicted sex offender Jeffrey Epstein.
It's reported the two men were "very close" during alleged chats at Epstein's Manhattan home.
Billionaire Gates – the co-founder of Microsoft – is said to have discussed his "toxic marriage" on several occasions between 2011 and 2014.
The Daily Beast – an online newspaper – quoted a source who said:
"Going to Jeffrey's was a respite from his marriage.
"It was a way of getting away from Melinda."
A spokesperson for Gates has denied all the allegations.
They said: "Any claim that Gates spoke of his marriage or Melinda in a disparaging manner is false.
"Bill never received or solicited personal advice of any kind from Epstein — on marriage or anything else.
"Bill never complained about Melinda or his marriage to Epstein.
"It is extremely disappointing that there have been so many untruths published about the cause, the circumstances and the timeline of Bill Gates' divorce."