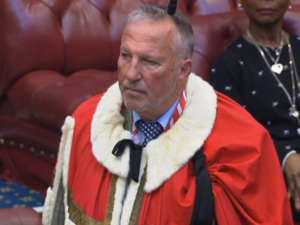 The scandal over the Martin Bashir "deceitful" interview with Princess Diana has left the over 75s "incandescent", said Lord Botham.
The former England cricketer said the outrage had led to pensioners regarding a threat to prosecute them for not having a licence as "just pieces of paper".
He claimed the public disquiet over how the Panorama interview was secured came from a BBC "culture of deception".
Lord Botham said:
"Two months ago, I wrote in The Telegraph that the BBC was 'one scandal away' from a wholesale licence-fee rebellion.
"The scandal that now engulfs the BBC has revealed an enduring culture of deception that ended up in its top management four years ago appointing as religion editor someone they knew had used forged bank statements."
Lord Botham said the over 75s were furious with the BBC decision to remove their free licence.
He said:
"My inbox showed that these pensioners were already furious with a BBC that was drifting ever further from their values.
"Now they are incandescent.
"The problem for the BBC is that these pensioners are growing in confidence that the BBC would never dare prosecute them for non-payment.
"Its moral force is empty.
"To them, the threatening letters are just pieces of paper.
"These are people who see the Royal Family as the glue holding together our nation.
"They now understand that the BBC conspired to undermine that family – destroying what was left of a troubled marriage."
A BBC spokesman said:
"The BBC Board has made an unconditional apology following the findings of the Lord Dyson report.
"Today's BBC processes and guidelines are much stronger than they were in 1995, but we know we must also do what we can to prevent such an incident happening again.
"As such, the Board will review the effectiveness of the BBC's editorial policies and governance, and we have announced an investigation into the circumstances around the hiring of Martin Bashir in 2016."
The BBC added that the decision to remove free TV licences for the over-75s was taken by the Government, not the corporation.
Ministers say the broadcaster "agreed to take on responsibility for the over-75s".