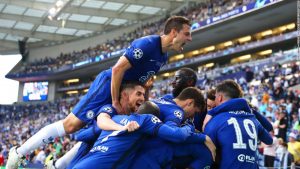 Chelsea have won the Champions League after beating Manchester City in the final played in Porto.
It's the second time the London club has lifted the trophy.
They beat City 1-0 in a thrilling game.
The winning goal came from Kai Havertz in the 42nd minute.
During a heart-stopping seven minutes of added time City peppered the Chelsea goal in attack after attack.
Riyad Mahrez nearly saved the day, but his dying seconds shot just faded wide of the post.
Havertz said: "It's an incredible feeling. We deserve this."
City have never won the Champions League.
They were the bookies favourite to do so this time.
More than 12,000 fans from both clubs travelled to Porto.
It was the biggest mass departure from the UK since the pandemic broke in the first days of 2020.