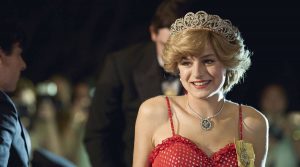 Emma Corrin as Princess Diana in The Crown
The next series of The Crown will include two episodes about "deceitful" reporter Martin Bashir "inveigling" Princess Diana into appearing in a Panorama interview.
The award-winning Netflix drama will be broadcast next year.
Filming is due to begin in a few months.
Playwright Peter Morgan scripts the show.
It's reported the controversial scenes have already been completed.
A programme source told The Telegraph:
"It has all been written.
"Peter works very closely with the historical research team who spent weeks poring over the Panorama stuff.
"This was a year ago.
"The team were doing the most incredible research and they've got it all in there: the build up to the interview, how Bashir effectively groomed Diana, the interview itself, and the aftermath are all factored in over more than one episode."
Prince William has already said he didn't wish the original Bashi interview with his mother to be shown again.
After Lord Dyson's damning report Prince William said:
"It effectively established a false narrative which, for over a quarter of a century, has been commercialised by the BBC and others.
"This settled narrative now needs to be addressed by the BBC and anyone else who has written or intends to write about these events."