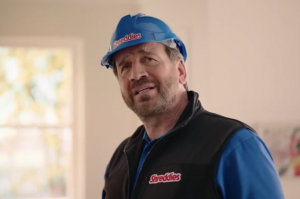 Picture: Shreddies
DIY SOS presenter is set to keep his BBC show despite "breaking rules" by starring in an advert for Shreddies.
The star was having "crisis" talks with the broadcaster to discuss his future.
Knowles was in "hot water" and faced the sack.
But The Sun reports the BBC have made a U-turn.
Knowles, 58, said:
"I have always said that DIY SOS is more than just a presenting job for me, it's part of me.
"It has my heart and working for the BBC for over 22 years is something I have never taken for granted.
"I will continue filming new episodes of DIY SOS over the coming months and will be back on your screens with the purple shirts next year."
Knowles has presented the popular make-over show for more than 22 years.
He and his team and a host of volunteers help a family in need change their homes.
However, his contract stops him using his "builder" image for adverts – a rule he broke when he appeared in the Shreddies commercial.
Earlier his agent said:
"Both the BBC and Nick are keen to resolve this matter and are working together to seek a solution."