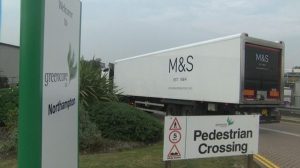 Sandwich maker Greencore is taking on thousands of workers to cope with demand as lockdown restrictions come to an end.
The company is employing people at sites including Worksop, Northampton, and Liverpool.
It makes sandwiches, salads, soup, and sushi for, among others, Marks & Spencer.
Its customers include all the major UK supermarkets.
During the pandemic Greencore made a £1.8 million loss for the six months to March 26th – compared to a £27.3 million profit the previous year.
Revenue fell 19% to £577 million because of coronavirus.
However, it has secured new business worth £175 million over the year.
Patrick Coveney, CEO, said:
"This has been a challenging period for Greencore, but the consistent build in our revenues since early March as lockdown measures have eased and COVID-19 cases have fallen give us real cause for optimism."
Greencore employs 12,000 – mainly in the UK.
Mr Coveney added:
"We're probably going to bring about 5,000 new people into our production and supply chain.
"That's a big step-up and does require us to be able to on-board safely lots of new people."
Hiring would be in sandwich, salad and sushi facilities in Worksop, London and Northampton, Lincolnshire and Liverpool.
Mr Coveney added:
"They would be the biggest areas where we're looking to bring new people into the business to meet this very, very strong rebound in demand as the COVID restrictions are being eased."