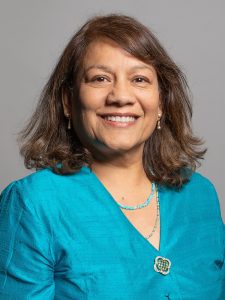 Valerie Vaz MP
Labour MP Valerie Vaz has suggested Prime Minister Boris Johnson "pretended" to be seriously ill with Covid-19.
The former frontbencher suggested Mr Johnson was "not quite at death's door".
She said the public was "led to believe" he was gravely ill.
Despite being questioned about the allegation Ms Vaz – recently sacked by Labour leader Sir Keir Starmer – at first refused to withdraw her comment.
She said:
"I don't know. None of us were in the room."
"The PM was in hospital for a while, not quite at death's door that we were led to believe."
After a backlash Ms Vaz – sister of disgraced former MP Keith Vaz – retracted her comments.
She said: "I wish to clarify my remarks and apologise if any offence was caused.
"I never intended to give the suggestion that the Prime Minister was not seriously ill."
Keith Vaz was caught out in a national newspaper sting allegedly trying to hire rent boys for sex and offering to supply cocaine.
A report by the Commons standards watchdog later found Mr Vaz had "expressed willingness" to purchase the Class A drug – a "very serious breach" of the MPs' code of conduct.