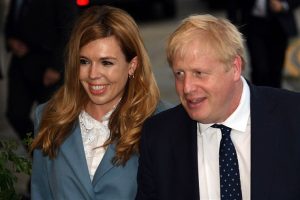 Prime Minister Boris Johnson and his fiancée Carrie Symonds are to marry next year, it is reported.
The couple has sent "save the date" reminders to family and friends.
The Sun reports the big day is July 30th, 2022.
The marriage will be Mr Johnson's third and Ms Symonds' first.
They have been engaged since late 2019 and have a year-old son Wilfred.
When previously asked if he was planning a summer wedding the PM replied:
"The wedding industry is certainly gonna come roaring back in common with many other sectors of the economy."
Number 10 declined to comment on the reports that the couple have named the day.