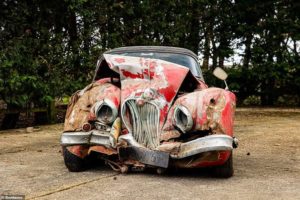 A wrecked vintage Jaguar that was crashed 25 years ago and never mended has sold for £90,000 at auction.
The rare 1960 XK150 S has been in bits since the driver hit a tree.
However, its condition did not put off buyers as the vehicle fetched ten times its estimate.
Rob Hubbard, head of Bonhams MPH, said:
"The car looks worse than it is.
"It has all its original leather and the original matching-numbers engine, which needs to be overhauled as it has not started for more than 25 years.
"The steering wheel is broken, from the impact of the crash.
"The parts are plentiful and relatively easy to obtain."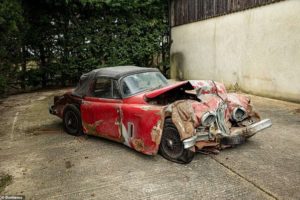 Fully restored it could be worth £250,000.
Only 69 right hand drive XK150 cars with the 3.8 litre S engine were made by Jaguar at its Coventry plant.
It had a bhp of 265 and a top speed just shy of 140 mph.
The car was the pre-cursor to the E-Type Jaguar.
The XK150 in Carmen Red with a black leather interior was registered on January 1st, 1960.