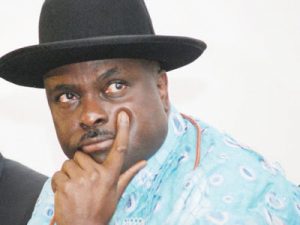 James Ibori
The Government has given back to Nigeria more than £4 million in assets stolen by a former governor.
James Ibori was convicted in 2012 on 12 counts of fraud and money laundering.
He was sentenced the 13 years in prison by Southwark Crown Court.
He served four years.
Prosecutors said Ibori had stolen more than £117 million from the oil-rich Delta State during his time as governor.
So far £4.2 million has been recovered from Ibori and his associates following operations by law enforcement agencies.
They found assets – including a private jet – bought in Britain with illegal funds.
Other monies were seized from Ibori's family and associates.
More money is expected to be found.
Ibori came to London in the 198-s.
He worked in a DIY store as a cashier but was convicted in court of theft.
He returned to Nigeria and became involved in politics.
He later lied about the conviction which would have barred him for standing for office.