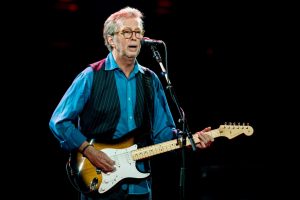 Eric Clapton feared he would never play the guitar again after suffering adversely to his Covid-19 jabs.
He said his hands and feet became "useless".
He told his music producer:
"I took the first jab of AZ (Astra Zeneca) and straight away had severe reactions which lasted ten days.
"My hands and feet were either frozen, numb or burning, and pretty much useless for two weeks.
"I feared I would never play again.
"I should never have gone near the needle.
"But the propaganda said the vaccine was safe for everyone."
He said he recovered but had a similar experience after the second vaccine dose.
Clapton – a self-confessed lockdown sceptic – was writing to Robin Monotti Graziadei, an Italian music producer.
The 76-year-old guitarist added:
"I've been a rebel all my life, against tyranny and arrogant authority, which is what we have now."