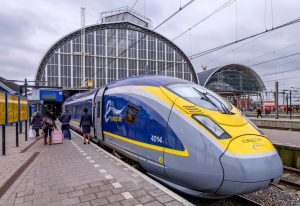 Eurostar has been given a £250 million rescue package deal after nearly collapsing during the Covid-19 pandemic.
The cross-Channel was "on its knees" after it was hit by a 95% drop in ticket sales.
It has now reached a deal with its shareholders and banks to keep going.
However, the British Government has been reluctant to help the French owned railway link.
Britain sold its stake in Eurostar for £750 million in 2015.
And three months ago, Transport Secretary Grant Shapps told MPs that, while the Government was keen to see Eurostar survive, it would not help bail it out.
After the rescue deal was announced Eurostar CEO Jacques Damas said:
"Everyone at Eurostar is encouraged by this strong show of support from our shareholders and banks which will allow us to continue to provide this important service for passengers.
"The refinancing agreement is the key factor enabling us to increase our services as the situation with the pandemic starts to improve.
"Eurostar will continue to work closely with governments to move towards a safe easing of travel restrictions and streamlining of border processes to allow passengers to travel safely and seamlessly.
"Their co-ordinated actions and decisions are crucial to the restoring of demand and the financial recovery of our business."
Eurostar has ben reduced to running a service a day between the UK and Europe.
Before the coronavirus crisis it was scheduling 56 trains a day.