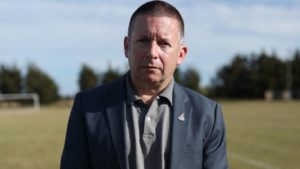 Howard Beckett
Labour has suspended a leading trade union member after he posted an "offensive" tweet about Home Secretary Priti Patel.
Howard Beckett – Unite's assistant general secretary – wrote:
"Priti Patel should be deported, not refugees.
"She can go along with anyone else who supports institutional racism.
"She is disgusting."
The post was at once condemned by both Tory and Labour MPs.
It was quickly removed from Twitter.
Labour MP Chris Bryant said:
"This is vile.
"This should play no part in Labour – or in British politics."
And Tory MP Steve Baker said it was "an extraordinary, absolutely intolerable remark" which must have a "robust response" from Labour.
Mr Beckett said: "I'm very sorry for my earlier tweet.
"I was angry to see Muslim Refugees being deported on the morning of Eid al Fitr."
He said his earlier message was "never intended to be literal" and "the wording was wrong" and "offensive".
He also apologised "unreservedly" to Ms Patel.
He is in the running to succeed Len McCluskey as Unite's general secretary.