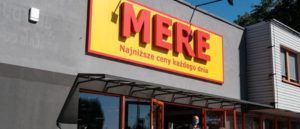 A Russian supermarket chain plans to open stores in Britain.
Mere is looking to branch out in the UK and tackle head-on the discount chains Lidl and Aldi.
Britain's "Big Four" supermarkets – Morrisons, Asda, Tesco, and Sainsbury's – will also feel the heat of the cut-price war.
Mere claims it will undercut current prices by 20-30%.
The first store will be opened next month in Preston.
Mere is actively looking for premises of around 10,000 sq. ft, with parking spaces for 30-40 cars and a local population of 60,000 or more.
Its website says:
"We are looking for suitable locations across UK to expand our retail chain.
"At the moment, despite coronavirus, we are actively involved with landlords, their representatives and agents with the aim to open our Mere retail stores ASAP."
The Grocer magazine lists potential sites as:
Devon, Stockport, Neath, Banbury, Selby, Bradford, Middlesbrough, Grantham, Kettering, Plymouth, Beckenham, Gloucester, Northampton, Cardiff, Oswestry, Barnsley, Sheffield, Exeter, Stretford, Southampton, south Scotland and Wales.
Mere is known in Russia as Svetofor.
It was founded in 2009 and has 3,200 stores internationally.
It has been starting out in Europe since 2018 with stores in Germany, Poland, Romania, Lithuania, Latvia and Ukraine.
As well as the UK, it plans to soon expand in Italy, Spain, Greece and Bulgaria.
Each store in the UK will have around 1,200 items and just eight staff.
It won't sell newspapers, magazines and other premium, branded goods.
Pavels Antonovs, from Mere, said:
"We are the gap in the market. We don't have any competitors.
"Our model is no service and no marketing."