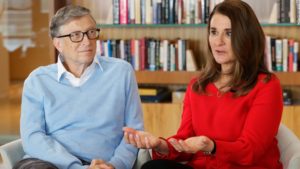 Bill Gates – the world's fourth richest man – has tod friends he was locked in a "loveless marriage" with wife Melinda.
The couple announced they were divorcing after 27 years together.
They said they "no longer believe we can grow together as a couple in the next stage of their lives".
However, the New York Post reports that Mr Gates had told close golfing chums that the marriage had ended.
The paper said:
"Bill did talk to his close friends on the golf course.
"He told them a while back that the marriage was loveless, that it had been over for some time and they were living separate lives."
Melinda Gates has been talking to her lawyers for more than two years following concerns about her husband Bill's meetings with sex offender Jeffrey Epstein.
Ms Gates, 56, has consulted legal experts from several firms, reported the Wall Street Journal.
The newspaper claimed it had seen documents related to the case.
One of the reasons behind the couple's split is said to be multi-billionaire Bill's friendship with Epstein.
He committed suicide in jail in 2019 after being convicted sex offences involving young girls.
Epstein's former British girlfriend Ghislaine Maxwell is currently on remand in a New York jail charged with similar offences.
Prince Andrew is also caught up in the international trail of girls allegedly being supplied to Epstein's friends.
The Journal said Microsoft founder Mr Gates and Epstein met in 2011.
On one occasion it's claimed the world's fourth richest man with £130 billion stayed late into the night at Epstein's Manhattan home.
Mr Gates' spokesperson Bridgitt Arnold said at the time of the 2019 allegation:
"Bill Gates regrets ever meeting with Epstein and recognises it was an error in judgment to do so."
The Gates' announced their divorce on May 3rd.
In identical tweets, they declared:
"We have raised three incredible children and built a foundation that works all over the world to enable all people to lead healthy, productive lives.
"We ask for space and privacy for our family as we begin to navigate this new life."