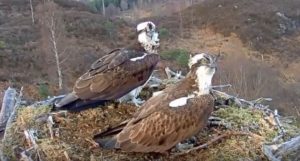 Library picture: Louis and Aila 2019
An osprey nest hidden away in the Scottish Highlands is under intense scrutiny after a pair of birds were seen mating at the site.
The resident pair – Louis and Aila – usually return to the nest at Loch Arkaig in Lochaber in April.
But it's thought high winds held up their anticipated arrival.
Louis did return – but then flew off with a different female osprey to another nest.
However, a different pair mated at the nest – which is watched by "osprey cam".
After an hour they too flew off.
Now experts are eagerly watching to see if they return.
George Anderson, of the Woodland Trust Scotland, said:
"Louis was busy on the nest for a couple of weeks but eventually he followed a new female off to another tree in the forest.
"It is clear they have settled down to breed and we think there could be eggs.
"We have been waiting to see if other birds would take up residence on the camera tree but had given up hope when this new pair arrived."
Last year the nesting site became an Internet hit as thousands watched Louis and Aila bring up their brood.
Live Osprey Cam