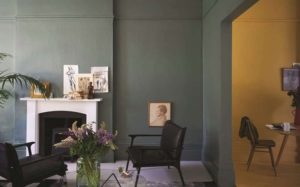 Picture: Farrow & Ball
Paint maker Farrow & Ball has been bought by a Danish company for £500 million.
The quintessentially British company – with eclectic paint colours like Sulking Room Pink – has seen a 30%  increase in sales during the lockdown.
Hempel – founded in Copenhagen in 1915 – has bought the business.
Farrow & Ball was put up for sale by Ares, an American private equity company.
It bought the firm in 2014 for £275 million.
Anthony Davey, chief executive of Farrow & Ball, said the pandemic had turned homes into "a new frontier".
He told the FT:
"It was a school, it was an office, it was a place where old hobbies were revisited, and new hobbies began.
"As a consequence, people invested more time and more money [in their homes].
"Not all Farrow & Ball consumers are sort of uber-affluent consumers — very far from it.
"Of course, affluence and price sensitivity play a role, but it is not the defining factor.
"It's their engagement and passion for interior design."
Farrow & Ball is based in Wimborne Minster, Dorset.
It was founded by John Farrow and Richard Maurice Ball in 1946.
Hempel said the company's paints will continue to be manufactured in the UK.