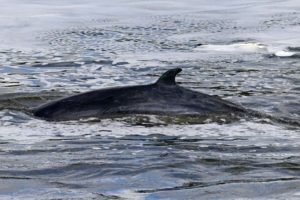 A Minke trapped in the River Thames has been put down.
Rescuers have tried to free the mammal for two days and return it to the open sea.
But experts believe the Minke has become too stressed and would not survive on its own at sea.
The Minke became stranded at Teddington Lock in South West London.
Julia Cable, national co-ordinator at the British Divers Marine Life Rescue service, said:
"The vets are here from London Zoo.
"They will give the whale a large anaesthetic dose which will put it to sleep.
"The whale shouldn't feel anything."
"It's always sad, but we now know that putting it back out into the open sea would have been sending it to starve out there."
Ms Cable said the whale was either dependent on its mother or been recently weaned.
She added: "It will be socially dependent, so for it to be on its own something has happened.
"It has been separated from either its mother or a group.
"It's in a nutritionally poor state, it also has injuries from stranding.
"We know it was stranded for five or seven hours yesterday, so all the time that happens the organs can get damaged as well."
Whales appear in the Thames most years – but becoming stranded is uncommon.
Ms Cable said: "We started off with beluga, then there was a humpback and then there was another minke, then a fin whale turned up.
"But this is the first in recent years of a live stranding.
"It's not common and hopefully we won't see it again for a while."
Minke whales are the smallest of the great whales, growing to about 33ft (10m).
They usually swim throughout the northern Atlantic and Pacific Oceans.