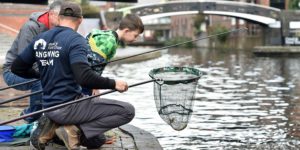 A year long on-off lockdown has boosted the profits of fishing tackle company Angling Direct.
Many people have turned to the sport – helping the firm post a revenue of £67.7 million in the year to the end of January.
It's a rise of more than 27 per cent on the previous period.
More than 100,000 fishing licences were sold in 2020 – an increase of 17 per cent.
Angling Direct saw its online sale grow by nearly 40 per cent.
Unlike other High Street shops, the firm posted a 15.5 per cent rise in "brick-and-mortar" sales – hitting £32.3 million.
It even managed to open four new retail outlets.
The company said it was looking to deliver profitable growth in revenue — but at a slower rate than last year.