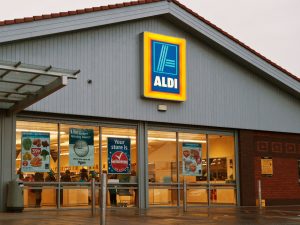 German supermarket chain Aldi has been named as Britain's top in-store place to shop.
The own-brand retailer was given a five-star rating for value for money.
The annual Which? report also gave it 73% for satisfaction.
Customers were asked to rate their shopping experience across of the UK's leading supermarkets.
Categories include quality of produce, value for money and availability of online shopping slots.
While Aldi fared all right across most areas it excelled at keeping customers satisfied with its low prices.
Harry Rose, at Which said:
"Many households have felt the pinch during the pandemic and value for money was the most important factor when shopping in-store in our annual supermarket survey, which explains why Aldi came out on top.
"Online supermarkets have also been a lifeline for many people during the pandemic and while Sainsbury's rose to the challenge by massively increasing its delivery capacity, Ocado's reputation took a hit after the scale of demand meant it stopped accepting new customers and shut down its app at the height of lockdown."