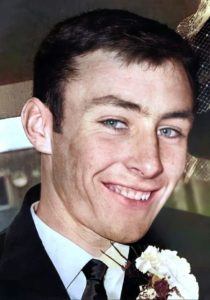 Joe McCann
The trial of two British paratroopers accused of shooting dead an IRA commander has collapsed.
Prosecution evidence against the two men – known in court as Soldiers A and C – was ruled as inadmissible.
The judge excluded statements the soldiers were ordered to give in 1972 and later voluntary statements to the Historical Investigations Team in 2010.
IRA man Joe McCann, 24, was shot dead in Joy Street, Belfast, as he ran away from an army patrol.
He was unarmed.
McCann was linked to the deaths of 15 British soldiers during The Troubles.
The prosecution at Belfast Crown Court accepted the statements were inadmissible.
They had not been given under caution and without the soldiers having access to legal representation.
Mr Justice O'Hara said it was "remarkable" that the accused had never been arrested or questioned by police before being put on trial for murder.
The prosecution said it would not appeal the decision – therefore ending the case.
Mr Justice O'Hara told the defendants:
"In the circumstances Mr A and C I formally find you not guilty of the charge of murder."
Minutes later the two accused – now in their 70s – walked from the court.
McCann's family has said it will apply to the Attorney General to open an inquest into his killing.
Speaking outside the court, the McCann family's lawyer Niall Murphy said:
"This ruling does not acquit the state of murder. This ruling does not mean that Joe McCann was not murdered by the British Army."
The court's decision prompted a call for an end to the prosecution of former British soldiers who served in Northern Ireland.
Four other cases involving veterans are at the pre-trial stage in the region's courts.
Former armed forces minister Johnny Mercer said:
"I'm delighted for the soldiers who can now hopefully go and live the rest of their lives in peace.
"But the government has made very clear promises, and the Prime Minister has made very clear promises, on legislation to end the relentless pursuit of those who served their country in Northern Ireland.
"It is time to deliver on that."
A Ministry of Defence spokesperson said:
"The MOD has noted the court's decision today, which was welcomed by Defence Secretary Ben Wallace."