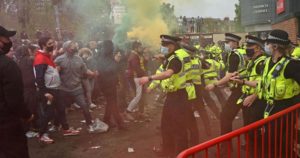 A police officer slashed by broken glass during fighting outside Manchester United's Old Trafford ground has suffered "life-changing" injuries.
The damage around the eye was called "significant".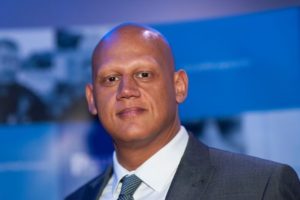 Stu Berry
Stu Berry, chairman of Greater Manchester Police Federation, said the wounded man was a PC with 20 years' service.
He said: "Our brave colleague went to work yesterday to keep the people of Greater Manchester safe – and he ended up coming under attack.
"He is incredibly lucky not to have lost the sight in an eye.
"This is not right.
"Police officers are mothers, fathers, husbands, wives and partners.
"They are sons and daughters.
"They are human beings who should be able to go home to their families in one piece at the end of their shifts.
"Not be rushed to hospital.
"We are offering support to our injured colleague and will continue to do so as he recovers from his injuries."
The Premier League game between Manchester United and Liverpool was postponed after the pitch invasion at Old Trafford.
United fans were protesting the club's owners and a recent ill-judged foray into joining a European Super League.
Hundreds of protesters swarmed on the pitch – quickly joined by others who'd broken into the stadium.
And, outside flares were let off and bottles thrown at the police.
United staff were forced to lock themselves in rooms as the protesters ran riot.
The game was due to start at 16.30 but was delayed.
At 17.30 United confirmed the match had been called off and would be rescheduled.