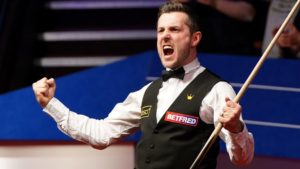 Snooker ace Mark Selby – the Jester from Leicester – has won his fourth World Championship title.
He beat Shaun Murphy 18-15 at the Crucible Theatre in Sheffield.
The match was played before an audience of about 1,000 people.
Selby, 37, won £500,000 in prize money and moves up to second place in world rankings – behind Judd Trump.
Selby said:
"To win it once against Ronnie O'Sullivan for the first time was a dream come true – to win it four times is something I could only have dreamed of.
"Every time you get to a world final you always try your hardest – it's such a tough tournament to get there and you never know whether it's going to be your last.
"My aim is to get back to world number one.
"You still have goals in your career. I'm going in the right direction."
The crowd was a milestone in fans returning to stadia for sport and music.
It was the first time since March 2020 people in numbers had attended an event.
Murphy said:
"Life has been difficult for everybody over the last 12 months but I want to say a very deep and personal thank you for every one of you who has bought a ticket over the last 17 days.
"Sport is nothing without fans and we've been thrilled to have everyone back and a full house tonight.
"It's been very tough for me this year with the travel restrictions, but you've brought me back."