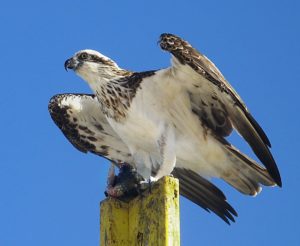 Library picture
A platform home to a rare osprey nest has been cut down in an "horrific act of vandalism".
The protected bird had only laid its first egg the day before.
The nest was at Brenig, which borders Conwy and Denbighshire.
The North Wales Wildlife Trust tweeted:
"Brenig Osprey Project partners woke up this morning to the worst possible news.
"Last night, at 21.42, someone took a chainsaw to the osprey nest and felled it – please, please be kind to staff this weekend as we work out how to respond to this horrific act of vandalism.
"If you have any information that can help us in identifying the individuals responsible, please let us know or contact the police with crime reference 2059734."
Many took to social media to criticise the vandalism.
One wrote: "Unbelievable! What kind of moron destroys an #osprey nest? One of our rarest & most beautiful birds. Really sorry to read this :("
Another tweeted: "This is beyond words. Utterly abhorrent & has made me cry that anyone could do such a terrible thing."
The police are investigating the vandalism.