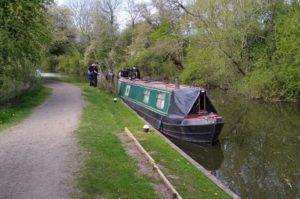 Picture: Leicester Police
A wanted man was chased for eight miles on his river narrowboat by a policeman on a push bike.
The barge hit its top speed of four miles an hour – giving the following officer more than a chance to keep his distance and keep watch.
As the barge neared a lock he radioed ahead and alerted colleagues who hid in the undergrowth .
When the 37-year-old suspect jumped ashore to work the gates on the Grand Union Canal (GUC) he was arrested.
He was wanted on suspicion of assault and breaching a restraining order.
One of the coppers giving chase later tweeted:
"For 15 years I've been trying to tick off a water-based pursuit in landlocked Leicester and today I've ticked it off.
"We waited until he was out the boat and at Lock 37 on the GUC, (Grand Union Canal), when the trap was sprung by my colleagues lying in wait in the undergrowth nearby."
The arrest related to an alleged incident at a house in New Parks, Leicester.
A Leicester Police spokeswoman said:
"It was alleged that a man, subject to a restraining order preventing him from doing so, arrived at the address and during the incident a 15-year-old boy was assaulted.
"He was not injured.
"Officers received information of the suspect's whereabouts and that his narrowboat was moored in the city yesterday afternoon.
"Officers obtained a direction of travel for the boat, as it had since left, and an officer, who was on a cycle, set upon following its route.
"The boat was located travelling in the Glen Parva area and after further officers were called to assist, the suspect was arrested as he left the boat to travel through a lock."
The man has been remanded in custody.