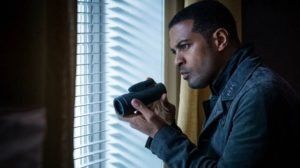 Picture: ITV Viewpoint
Award winning actor Noel Clarke has been suspended by Bafta after allegations of sexual harassment.
The claims come a week after Clarke, 45, received one of its top honours for "outstanding contribution to cinema".
Clarke has said he "vehemently denies any sexual misconduct or wrongdoing".
In a statement the actor said:
"I will defend myself against these false allegations.
"In a 20-year career, I have put inclusivity and diversity at the forefront of my work and never had a complaint made against me.
"If anyone who has worked with me has ever felt uncomfortable or disrespected, I sincerely apologise."
It's reported 20 women have made allegations against Clarke.
Bafta said it was suspending his membership and the recently awarded honour "immediately and until further notice".
Clarke is a currently starring in the ITV crime drama Viewpoint – a five part series.
He is also a producer of the programme.
Management and production company 42M&P said it no longer represented the actor.
Clarke is married to Iris Da Silva, a cosmetic designer, and the couple have three sons.