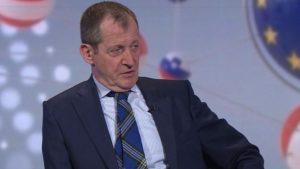 Former Labour spin doctor Alastair Campbell is taking over from Piers Morgan on Good Morning Britain.
Tony Blair's right-hand-man will be with co-presenter Susanna Reid from May 10th.
He will be on the programme for three mornings.
His time in the studios coincides with Mental Health Awareness Week of which Campbell is a champion.
An ITV source said:
"Campbell's political analysis and journalism pedigree is second to none.
"MPs could certainly be in for a rough ride, but it will make great TV."
Campbell, 63, said:
"I am flattered to be asked and delighted that my stint will coincide with Mental Health Awareness Week as Good Morning Britain has always championed good mental health.
"I am also looking forward to getting stuck into the big political and social issues at such an important and difficult time for the country, as well as brushing up my knowledge on some of the subjects that will take me out of my comfort zone.
"I must admit I am slightly dreading – make that totally dreading – getting out of bed in the middle of the night to get ready to present the show.
"But I am really looking forward to it."
Morgan walked off set after an exchange of views with weather presenter Alex Beresford about Meghan Markle's Oprah interview.
The former tabloid editor later quit ITV.