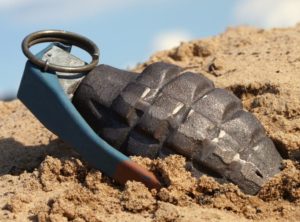 A suspected WWII hand grenade has turned out to be a sex toy.
The device was found in woodland by a passing jogger.
It was in a plastic bag with other discarded items.
The police and bomb squad officers were called to the scene in Passau, Bavaria.
After a closer examination of the "grenade" it was agreed it was a dummy.
A Bavarian police statement said:
"A search on the internet confirmed the suspicion.
"There are indeed sex toys in the form of hand grenades, and that was the kind of thing we were dealing with here.
"To the relief of all involved, the police officers were quickly able to give the all-clear after arriving at the forest property.
"Due to the advanced decomposition of the bag, the items had probably been there for some time.
"How these items got there and why they were left there is anyone's guess."