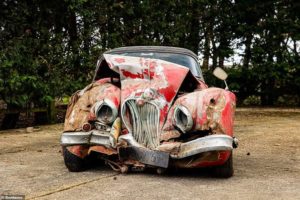 Picture: Bonhams
A rare 1960 Jaguar XK150 3.8 Drophead Coupe is expected to fetch £15,000 at auction – even though it is a complete wreck.
The classic car was crashed by its owner 25 years ago and the wreckage was kept in a garage.
However, fully restored the car could be worth £250,000.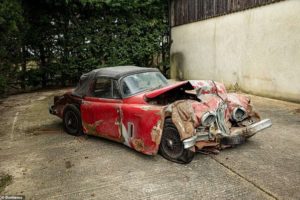 Picture. Bonhams
Auctioneer Bonhams said:
"It looks worse than it is, and the financial return of restoring it to its former glory could be extremely profitable indeed."
Only 69 right hand drive XK150 cars with the 3.8 litre S engine were made by Jaguar at its Coventry plant.
It had a 265 bhp and a top speed just shy of 140 mph.
The car was the pre-cursor to the E-Type Jaguar.
The XK150 in Carmen Red with a black leather interior was registered on January 1st, 1960.
The owner drove it for 25 years before the car slipped on wet roads in Hull, East Yorkshire, and crashed into a tree.
The auction is online on May 22nd.