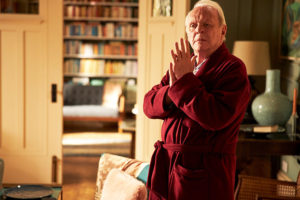 Sir Anthony in The Father
Sir Anthony Hopkins has become the oldest actor to win an Oscar.
The 83-year-old star picked up the Best Actor award for his performance in The Father.
He was also the oldest person to be nominated for a Best Actor trophy.
The late Christopher Plummer held the record for oldest actor to receive an Oscar.
He was a Best Supporting Actor winner for Beginners when aged 82.
Sir Antony was the unexpected winner of the Oscar – the firm favourite was Chadwick Boseman who died last year from cancer.
Boseman's role in Ma Rainey's Black Bottom had already won him a Golden Globe and Screen Actors Award.
It's the second time Sir Anthony has won an Oscar.
His previous success was as Hannibal Lecter in Silence of the Lambs in 1992.
After yesterday's ceremony Sir Anthony posted his reaction to Instagram.
He said: "Good morning.
"Here I am in my homeland in Wales, and at 83 years of age I did not expect to get this award.
"I really didn't.
"I'm very grateful to the Academy and thank you.
"I want to pay tribute to Chadwick Boseman, who was taken from us far too early.
"And again, thank you all very much, I really did not expect this, so I feel very privileged and honoured.
"Thank you."