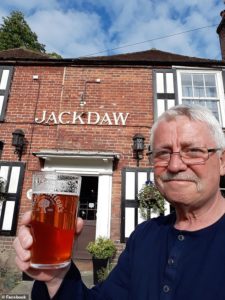 Facebook
An ambulance worker responding to a 999 call has died after something hit the vehicle's windscreen.
The technician was sitting in the front passenger seat.
The man was later named as Jeremy – also known as Jack – Daw. He was aged 66.
His colleague driving the ambulance was injured and taken to hospital and later discharged.
The ambulance was driving along the A49 near the village of Moreton on Lugg, near Hereford, when the incident occured.
A spokesperson for the West Midlands Ambulance Service couldn't comment on what happened as "investigations are ongoing".
They added:
"Sadly, despite everyone's best efforts, nothing could be done to save our colleague, who was the front passenger, and he was confirmed dead at the scene."
West Midlands Ambulance Service Chief Executive, Anthony Marsh, said:
"This is truly awful news, and my thoughts and prayers go out to the family, friends, and colleagues of those involved at this very difficult time.
"I am enormously proud of all the staff and the university students as part of their clinical placement that worked so hard and professionally to try to save our colleague.
"I am sorry that despite their best efforts, he could not be saved."
West Mercia Police have appealed for witnesses.