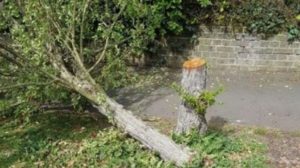 Picture: Surrey Police Twitter
A man has been arrested after dozens of trees were illegally cut down in Surrey.
Over the last month more than 50 trees had been sawn down in Elmbridge.
Some were left lying across roads causing traffic disruption.
Members of the public helped police in the search for the culprit.
A car's number plate was passed on and officers stopped the vehicle.
A later search of the suspect's home uncovered chain saws and wood chippings.
Police arrested a 24-year-old man who remains in custody as inquiries continue.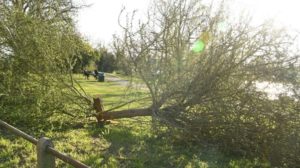 Picture: Surrey Police Twitter
Inspector Bert Dean, borough commander for Elmbridge, said:
"This is an encouraging development in this investigation. We continue to piece together the evidence we have.
"Thank you again to the local community for their ongoing patience and support."