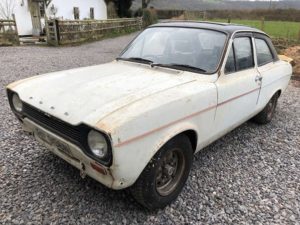 A Ford Escort in need of a complete restoration is expected to fetch £25,000 at auction.
The "extremely rare" 1975 RS 2000 Mark 1 is one of the last UK models in need of renovation.
Fully restored it could be worth as much as £65,000.
The rusting wreck – stored in a garage in Dorset – has 53,677 miles on the clock and has had seven previous owners.
It's thought it was last on the road in 1995.
The current owner planned to restore the car but never got round to it.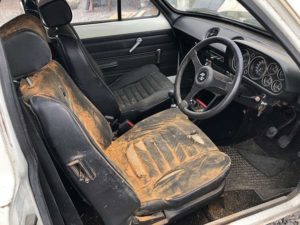 Richard Bromell, of Charterhouse Auctioneer, said:
"With so many RS2000 Mark 1s having been raced and rallied around the roads and others succumbing to rust and subsequently being scrapped when they were of little value or interest, this is quite probably one of the last genuine Ford Escort MKI RS2000's in original condition which has never been restored to be offered for sale."
When new, the diamond white RS 2000 included extras like a cigarette lighter and heated rear window.
The model was on sale for two years – 1973 to 1975 – and 3,795 were made for the UK market.