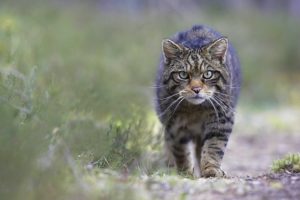 A conservation group hopes to reintroduce the European wild cat to the countryside.
The species is already on the edge of extinction and is only found in the Scottish Highlands.
The wild cat is Britain's rarest mammal last seen in England more than 200 years ago.
Laura Gardner, a Wildwood Trust director, said:
"Our goal is to return a viable and self-sustaining wildcat population to its former range.
"As a leading British wildlife conservation charity, we have developed years of experience and expertise in breeding wildcats in support of the existing Scottish conservation project.
"We are now excited to be utilising these skills to benefit wildcat recovery more broadly across Britain."
Working with the Durrell Wildlife Conservation Trust and Vincent Wildlife Trust it's planned to build 10 new wildcat breeding facilities across two sites in Herne Bay, Kent and Escot, Devon.
Each will house a pair of breeding cats, who usually mate between January and March, before their litters, born in April or May, are later released into the wild.
It is hoped the project will run for 10 to 20 years.