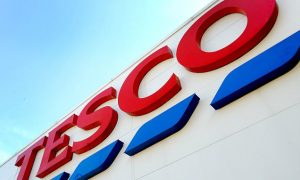 Supermarket giant Tesco has been fined £7.56 million for selling out of date food.
The company admitted 22 breaches of the Food Safety and Hygiene Regulations between 2016 and 2017.
Out of date was found at there of its stores.
The judge at Birmingham Magistrates' Court ordered Tesco to pay £95,500 in prosecution costs and £170 victim surcharge.
Birmingham City Council investigated the company after receiving several complaints.
Food inspectors visited three Tesco stores.
Offending items were discovered at two Tesco Express shops and a Tesco Metro.
Tesco said it was "disappointed" and had taken "immediate action" to rectify the problems.
It added "robust procedures" were now in place to ensure there is no repeat.
Passing sentence District Judge Shamim Qureshi said:
"Customers trust Tesco, and the other large supermarkets, in a way they might not trust small shops where they might check dates of foods before buying them.
"One might even say if you can't trust Tesco with the food on display, who can you trust?"
A Tesco spokesman said:
"We're disappointed that a small number of out-of-date products were found on sale in three stores in 2016/17.
"The safety of our customers is always our priority, and these incidents are not representative of the high standards of safety and quality we expect in Tesco stores.
"We took immediate action to address this at the time and we want to reassure our customers that we have robust procedures in place to make sure that this doesn't happen."