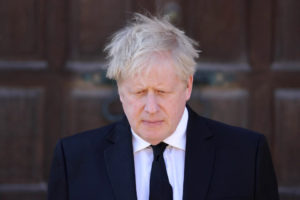 Picture: Andrew Parsons NO10 Downing Street
Prime Minster Boris Johnson has cancelled his trip to India next week as fears rise over a new variant of Covid-19.
Mr Johnson was due to talk with the Indian Prime Minister Narendra Modi.
The men will now speak online.
The British PM planned to fly to India on April 25th, but rapidly increasing coronavirus cases has hit the country.
Nearly 200,000 are being reported daily.
The rapid rise is linked to a full reopening of the economy and millions of people attending religious festivals.
A Downing Street spokesperson said:
"In the light of the current coronavirus situation, Prime Minister Boris Johnson will not be able to travel to India next week.
"Instead, Prime Ministers Modi and Johnson will speak later this month to agree and launch their ambitious plans for the future partnership between the UK and India.
"They will remain in regular contact beyond this and look forward to meeting in person later this year."
The trip – Mr Johnson's first major venture since moving into Number 10 – was originally planned for last January.