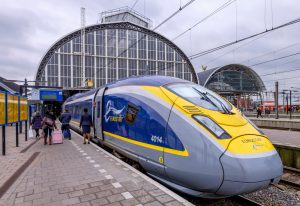 Eurostar has made a deal with its lenders to refinance hundreds of millions of pounds of debts.
It's hoped the money injection will help open up talks between the British and French Governments.
Eurostar has been crippled by the year long pandemic with its customer numbers dropping 95%.
It has staggering debts and on the verge of closing.
French has asked Prime Minister Boris Johnson for help but has so far received an emphatic "non".
The British Government sold its stake in the Channel link in 2015 for £750 million.
Now, a group of banks – including the state-backed NatWest – have agreed to refinance £400 million in loans due to be repaid in a few months.
The collapse of Eurostar could hit 3,000 jobs in the UK.
It could also close the rail link for at least two years – seriously affecting trade throughout Europe.
It is understood the Government told Eurostar's shareholders to sort out its debts before talks could start.
An insider said: "Shareholders accept that they are going to have to do the heavy-lifting.
"I think it's accepted that if one operator ceased to operate, that it could easily take 18 months to two years to transfer to another."
The rail operator is now majority-owned by French rail firm SNCF and two pension funds.