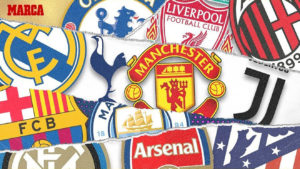 Six Premier League teams have agreed to set up a European Super League – despite condemnation of the plans.
Politicians and sports stars have queued up to criticise the move.
One former footballer even suggested the English teams should have six points deducted for agreeing to go along with the idea.
Arsenal, Chelsea, Liverpool, Manchester City, Manchester United and Tottenham Hotspur have all signed up as "founding clubs".
AC Milan, Atletico Madrid, Barcelona, Inter Milan, Juventus, and Real Madrid have joined them.
French and German teams have so far not put pen to paper on the deal.
Florentino Pérez, President of Real Madrid, said:
"It is anticipated that a further three clubs will join ahead of the inaugural season, which is intended to commence as soon as practicable."
"We will help football at every level and take it to its rightful place in the world.
"Football is the only global sport in the world with more than four billion fans and our responsibility as big clubs is to respond to their desires."
The Super League is being launched to rival UEFA's Champions League.
However, it has been criticised not only by former players but politicians.
Prime Minister Boris Johnson said:
"This new league would strike at the heart of the domestic game and will concern fans across the country.
"The clubs involved must answer to their fans and the wider footballing community before taking any further steps."
Housing Minister Christopher Pincher said talks must be with all the parties and players involved to "represent the views and the desires of the fans".
He added: "Our concern is for the fans – that they have the best possible sporting experience that they possibly can and that they are able to support their team.
"We don't want to see a footballing elite which is by the elite, for the elite, of the elite.
"We want to make sure that grassroots sport is supported – and that will be at the forefront of our minds as we have discussions with the game."
"If there is a choice to be made, we are on the side of the fans."
And Labour Leader Sir Keir Starmer said:
"Football in empty stadiums hasn't been the same over the last year.
"I can't wait to get back to games.
"But this proposal risks shutting the door on fans for good, reducing them to mere spectators and consumers.
"The clubs involved in this proposal should rethink immediately.
"And if they don't, they should face the consequences of their actions.
"Because football without fans is nothing."
Shadow Chancellor Anneliese Dodds said:
"I think a lot of fans will be really shocked to see this development.
"Football isn't all about money – it's about players, it's about fans, it's about communities… there is a football family.
"I really hope those teams who are contemplating this will think again."
Former Manchester United defender Gary Neville said:
"I'm not against the modernisation of football competitions, we have the Premier League, the Champions League, but I think to bring forward proposals in the midst of COVID and the economic crisis for all clubs is an absolute scandal.
"United and the rest of the 'Big Six' that have signed up to it against the rest of the Premier League should be ashamed of themselves.
"They should deduct six points of all six teams that have signed up.
"Deduct points off them all.
"To do it [join] during a season – it's a joke."
UEFA, the Football Association (FA) and the Premier League have also opposed the new Super League.
In a joint statement they said:
"We remain united in our efforts to stop this cynical project.
"We thank those clubs in other countries, especially the French and German clubs, who have refused to sign up to this.
"This persistent self-interest of a few has been going on for too long.
"Enough is enough."
The English FA said:
"We would not provide permission to any competition that would be damaging to English football and will take any legal and/or regulatory action necessary to protect the broader interests of the game."
The proposed Super League will have 20 teams – 15 founding clubs and another five who can qualify each year.
Games would kick off in August and head towards a final in May played at a neutral ground.
The founding clubs will be given £3 billion to "support their infrastructure investment plans and to offset the impact of the COVID pandemic".
Players would still be able to compete in their own leagues.
It's hoped a women's Super League will also be launched.