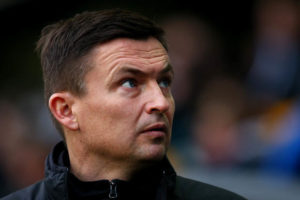 Manager Paul Heckingbottom
Sheffield United are the first club to be relegated from this season's Premier league.
The Blades were doomed after losing one nil to Wolverhampton Wanderers.
The South Yorkshire team has struggled since day one of the current season.
They took just one point from their first 13 games.
The side did not rally after sacking manager Chris Wilder.
Caretaker manager Paul Heckingbottom said:
"It has to be the goal to come straight back.
"This incredible journey started in League One.
"Look at Norwich, Watford, Bournemouth, who are doing well after they got relegated last season.
"Keeping the group together has to be a priority.
"There's a lot of hurt in that dressing room.
"That game encapsulates our season.
"Everyone knows and we have to look forward.
"We have to behave in the correct way, on and off the pitch.
"Careers are at stake.
"The fight is there but we have come up short."
Norwich – relegated last season – booked an instant return to the Premier League after winning the Championship league.