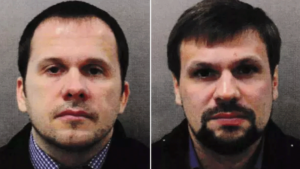 Petrov and Boshirov
Two Russians suspected to have carried out the Salisbury Novichok poisoning have been linked to an arms depot explosion four years earlier.
The men are connected to the blast in the Czech Republic which killed two people.
Czech police issued pictures of Alexander Petrov and Ruslan Boshirov who were in the country at the time of the attack.
The pictures match those issued by Scotland Yard of two men wanted for the Salisbury incident in 2018.
The Czech Republic has expelled 18 diplomats in retaliation for the bombing.
Prime Minister Andrej Babis said the expelled people had been identified as working for Russia's military secret service, the GRU.
He said: "There is a reasonable suspicion that Russian secret agents of the GRU service were involved in the 2014 explosions of an ammunition dump in the Czech village of Vrbětice."
After Salisbury, the two men were named as Alexander Mishkin and Anatoliy Chepiga.
They claimed on Russian television they went to Salisbury to see the cathedral spire.
However, UK police said they were members of the GRU and had smeared Novichok on a door handle in a bid to kill Sergei Skripal, a former GRU officer.
Russia has dismissed the Czech claims as "absurd".