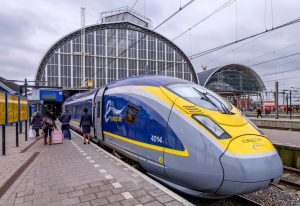 Prime Minister Boris Johnson is under pressure to help bail out the cross-channel rail link Eurostar.
The company has seen demand fall 95% during the Covid-19 lockdown.
Its revenue has dropped in a year from £1 billion in 2019 to £180 million.
It has debts in loans of £400 million.
The British Government sold its share in the rail link in 2015 for £750 million.
Despite it being a French run service, it employs more than 3,000 people in the UK.
The Rail, Maritime and Transport (RMT) union has called on the Government to help.
Assistant general secretary Mick Lynch said:
"Short-term cuts would have dire long-term consequences."
"We must stop this cull of jobs and services which would leave Britain ill-equipped to kick-start the economy with cross-Channel tourism and trade".
Manuel Cortes, general secretary of the Transport Salaried Staffs Association (TSSA), added:
"Eurostar provides a green strategic link between Britain and our European neighbours. It's absolutely crucial that these services are retained."