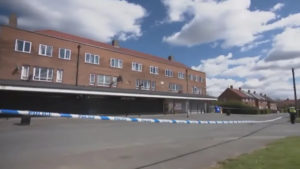 A teenager had his hand cut off during a machete attack, police have said.
Officers were called to an incident in Swarcliffe, Leeds, and found an 18-year-old youth whose hand had been "completely severed".
The victim was taken to hospital.
His condition is not said to be "life threatening".
Detective Inspector Guy Shackleton, of West Yorkshire Police, said:
"We are treating this incident very seriously and are carrying out a detailed and comprehensive investigation to establish the full circumstances and identify those responsible.
"The victim has suffered an extremely serious injury and is currently receiving treatment in hospital.
"We have already spoken to a number of witnesses but would still like to hear from anyone who saw any part of the incident or who has any information that could assist the investigation."
A local resident described the incident as "like something off of a horror film".
She added: "We heard it from where we are round the corner – there was a load of shouting.
"When we came out, we could hear a lad writhing in pain.
"His hand was on the road.
"I have never seen anything like it, it was like something off of a horror film."