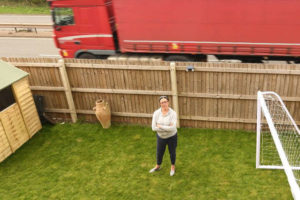 A mum who bought a £325,000 house just feet from a busy A road has hit back at people who said she "should have known".
Jackie McCormack, 58, and her husband bought the three-bedroom house near Coleshill, Birmingham.
It was a new build and £25,000 had been slashed from the asking price.
However, despite checking out the property seven times, the dream home quickly became a nightmare.
The busy A446 passes just nine feet from her home.
The couple must wear earplugs to deafen the noise of lorries thundering past.
When Jackie posted her dismay online, she was hit by hundreds of trolls.
She said: "All these trolls say, 'you should have known'.
"I knew it was a busy road – there's no getting away from that.
"I would be stupid if I didn't think it was a busy road.
"But this – how could I have known?"
Noise levels at the home have been measured at 85 decibels – though Jackie claims at one point the meter hit 120 decibels.
Jackie also claimed she must clean her windows up to four times a week to clear roadway dust.
And there is always to smell of vehicle fumes in the air.
Jackie is now campaigning for the loca council to install crash barriers and reduce the speed limit to 40 mph.