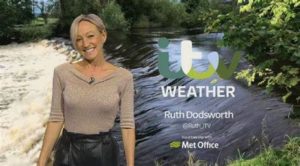 The ex-husband of ITV weathergirl Ruth Dodsworth has been jailed after a nine-year-campaign against her during their marriage.
Jonathan Wignall set alerts for when Ms Dodsworth was on television.
He also used her fingerprint to access her phone while she slept and fitted a tracking device to her car.
He repeatedly accused his 45-year-old wife of being unfaithful.
A court heard how Wignall, 54, was an "unrepentant bully with a fragile ego".
Cardiff Crown Court was told the couple met in 2001, and were married in 2002.
His controlling behaviour started in 2010 after they moved home and she became the main breadwinner as his nightclub business started to fail.
He was witnessed pushing her over and cracking her rib.
Prosecutor Claire Pickthall said:
"On one occasion she woke during the night to find him pressing her fingertip against her phone to access the fingerprint ID feature, and ultimately her phone, while she was sleeping."
Ms Dodsworth decided not to return home in October 2019.
Wignall called her 155 times in one day and threatened to kill himself unless she returned.
He was arrested the following morning on suspicion of harassment.
He told the police: "Harassment?
"But she's, my wife."
He was released on bail on the condition he stopped all contact with Ms Dodsworth.
However, his messages to family members raised suspicions he had fitted a tracker to her car.
It was found by the police. It was linked to an app on his phone and a laptop.
Ms Dodsworth, told the court through a video link:
"Because of my television career I've had to try to portray a smiley, happy, sunshine-like personality every day, when how I felt was everything but."
Dyfed Thomas, defending, said Wignall was "besotted" with her and was "sorry for his behaviour".
He pleaded guilty to coercive and controlling behaviour and stalking.
Judge Daniel Williams said:
"It is clear you have no remorse for that which you've done.
"You affect the air of a respectable and beleaguered but successful businessman.
"You're not.
"You're a fantasist with a fragile ego which makes you an unrepentant, possessive bully."
Wignall was given three years in prison and a restraining order against contacting Ms Dodsworth.