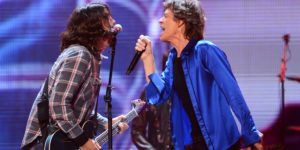 Mick Jagger and Foo Fighters frontman David Grohl have released a new song – "Eazy Sleazy" –
about the lockdown.
The Rolling Stones singer said:
"I wanted to share this song that I wrote about eventually coming out of lockdown, with some much-needed optimism.
"Thank you to Dave Grohl for jumping on drums, bass and guitar, it was a lot of fun working with you on this – hope you all enjoy Eazy Sleazy!"
Jagger sings:
"We took it on the chin, the numbers were so grim.
"Cancel all the tours, football's fake applause
"Virtual premieres, I've got nothing left to wear!
"It'll be a memory you're trying to remember to forget."