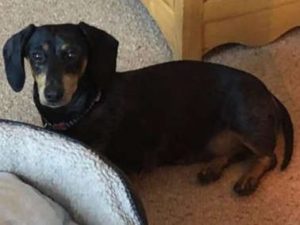 Picture: James Fox
A woman walking her dog was attacked and the pet stolen by two men.
Joanna Fox was pushed to the floor by one masked man and the other grabbed her two-year-old Dachshund Minnie.
They threated to punch the 50-year-old owner in the face.
Ms Fox said: "A man who was masked pushed me and I fell on the ground.
"The tall man was yanking the lead and the short one was hovering above me as if to hit my face.
"The look on the short man's face was a look of hate."
The men escaped towards Albert Village in a black Ford Mondeo with a registration number beginning YG60.
The attack and theft happened in Woodville, Derbyshire.
Inspector Chris Thornhill, said:
"Incidents such as this are, thankfully, very rare in Derbyshire.
"However, I am very aware of the impact that these crimes have on victims and how worried fellow dog owners will be hearing this news.
"Patrols have been stepped up in the area and you may see an increased police presence in the coming days.
"I would urge anyone with information, or concerns, to speak to them."
Ms Fox's son, James said the thieves had been opportunistic.
He added: "My mum wouldn't usually walk that route, so they were just driving around the area looking for victims when they found the perfect opportunity.
"They saw my mum and the dog and decided to attack them.
"She is physically and mentally hurting.
"She has cuts and bruises on her neck and wrists.
"She wants the dog back more than anything and we won't stop until we find her."