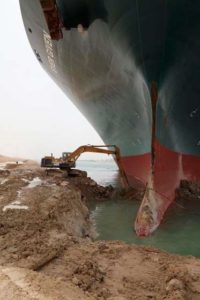 The stricken container ship Ever Given has been impounded in a dispute over compensation.
The vessel that blocked the Suez Canal for six days will not be allowed to leave Egypt.
The canal authority is in dispute with the ship's owner Shoei Kisen Kaisha over the sum it should pay.
The Suez Canal Authority (SCA) is looking for a minimum of £655 million.
Lt Gen Osama Rabei, of the SCA, said:
"The vessel is now officially impounded.
"They do not want to pay anything."
The Ever Given – registered in Panama – brought trading havoc to the world when she was trapped by her bow and stern straddling the vital waterway.
It was estimated more than £6 billion a day was being lost in world trade.
And hundreds of vessels were trapped either side of the Ever Given.
The order to impound the vessel was issued on Monday by a court in Ismailia.
Lt Gen Rabie told state-run television the authority was not at fault.
When asked whether the ship's owner was to blame, he replied:
"Of course, yes."