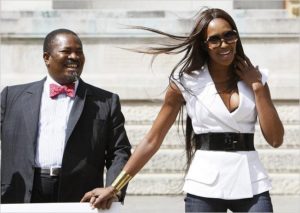 Nduka Ogaigbena with Naomi Campbell
A media mogul who rubbed shoulders with world leaders and celebrities has been banned from running a UK company for seven years.
Nduka Obaigbena – known as The Duke – loved the limelight afforded by his broadcast empire.
He expanded his Nigerian television service, opening offices in the heart of London.
From New Zealand House, just off Trafalgar Square, he employed dozens of senior British journalists and presenters on handsome salaries.
Many had worked on the BBC, ITV, SKY and Channel 4.
But while the 61-year-old flamboyant businessman bathed in the glare of publicity, regularly jetting from his headquarters in Nigeria to London and New York, he did not pay his staff.
After a never-ending string of broken promises to pay wages, disgruntled creditors took legal action and asked for the company Arise Networks Ltd to be wound up.
It was put into compulsory liquidation.
The application to disqualify Obaigbena as a serving director of any UK company was made in London's High Court by Official Receiver Anthony Hannon.
The court heard how Arise Networks came under financial pressure from late 2014 and was unable to pay its creditors.
As each month passed by the debts grew larger and Arise Networks continued to make £nil turnover.
Judge Agnello, QC, ruled:
"The conduct of Mr Obaigbena was a gamble which the creditors paid for.
"There was no evidence to support his belief that there was a reasonable prospect that creditors would be paid.
"With the exception of the unreliability of Mr Obaigbena as a witness on certain aspects set out above, I do not consider this is a case of dishonesty.
"However, this does not mean that the case is any less serious.
"The public interest is served in this case, in my judgment by disqualifying Mr Obaigbena for a period of seven years."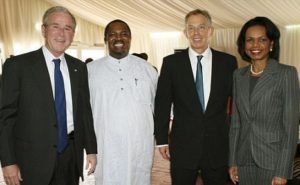 Library picture: Bush, Obaigbena, Blair and Condoleezza Rice
After the case, a former Arise editor said:
"What will hurt Nduka most is his loss of pride.
"He simply loves to be in the spotlight and having his picture taken with the likes of George W. Bush and Tony Blair.
"He loves the company of Naomi Campbell and Beyonce and hosting lavish parties.
"Knowing he has been shamed in the High Court is a blow to his sense of importance.
"As the judge said, he was found to be 'unreliable' – not only in giving evidence but in running his business."
The High Court ruling:
Official Receiver v Obaigbena [2021] EWHC 852 (Ch) (08 April 2021) (bailii.org)