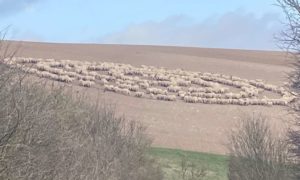 Picture: Chris Hogg
Hundreds of sheep standing in almost perfect circles have baffled passers-by.
Cyclist Chris Hogg, 47, snapped the bizarre scene and posted it to social media.
Some people thought it was an "alien ship" – others a sheep form of a crop circle.
In fact, the truth was less fanciful – they were gathered around a circle food trough in a field in East Sussex.